TEENS
28 Presents She'll Love (2022)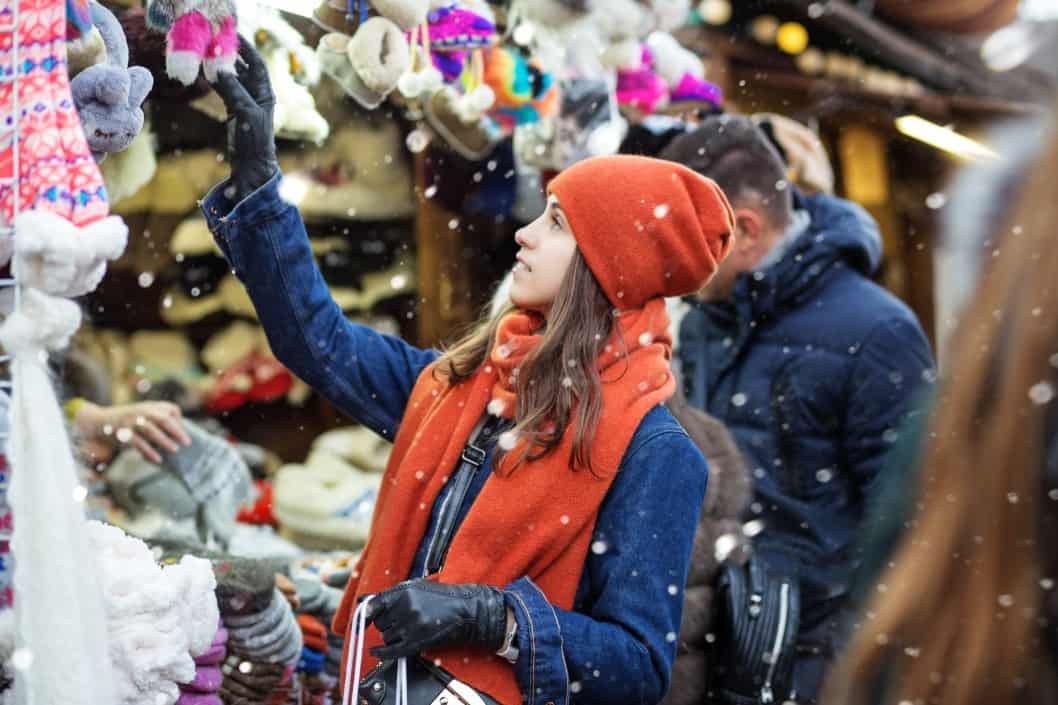 College students can sometimes be tough to shop for. Whether you need a Christmas present or a birthday gift, this list is filled with great options that answer college students' needs. Here are useful and thoughtful gift ideas that any college woman will love.
Note: We are a reader-supported site and receive compensation from purchases made through these links. 
 Best gifts for college women 
1. Faux Fur Blanket
These faux fur blankets from Viscosoft are adorable, washable, and affordable. Plus, they are soft, stretchy, and lightweight, come in three classic colors (tan, gray and dark brown), and four sizes. #holidaymagic, #giftingwin, #oneforherandoneforme
2. She's Birdie Personal Alarm
This compact alarm can affix to a keychain. When activated, it emits a loud noise and flashing strobe to create a diversion. The siren can be activated several times, and batteries are replaceable. Available in more than ten pretty colors. Practical and popular personal safety alarm for her on the college campus.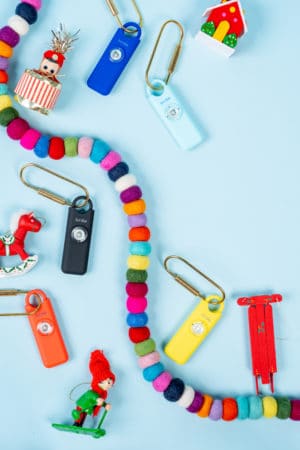 3. Lighted Vanity Makeup Mirror
University bathrooms in the dorms or apartments don't typically have the best lighting for getting ready, which is why a vanity mirror is a gift they will use regularly if they like doing makeup.
4. Notes to Self Socks
We can't always be there in person to tell her she is brave, beautiful, kind, and crushing it, which is why we think Notes to Self socks are a gift that keeps on giving all year long. Besides their thoughtful words of encouragement and wisdom, we love them for their durability and comfort. Be warned, though, one pair is not enough.
5. Little Words Project Bracelets
An inspirational, stylish bracelet stack made by a brand that believes one kind word can change things for the better? Don't worry if it sounds too good to be true. It's not, thanks to Little Words Project. They offer dozens of words and designs, multiple sizes, and customization options. We'll take a stack and longer arms, please.
6. The Classic Snap Tote
We love a pretty sight, and the Classic Snap Tote from Minted makes our eyes happy. These bags are practical, adorable, and endlessly giftable with unique designs on fresh fabric prints (choose from more than two dozen), leather straps, and a copper snap. The bags come with an option to personalize. Our advice? Pick your favorite and order early! 
7. Home Lap Desk
This lap desk is so much more comfortable and functional than the lap desks you might have used in the past. With a built-in mouse pad and phone slot, there is ventilation for a laptop which makes this an ideal gift for anyone on your list.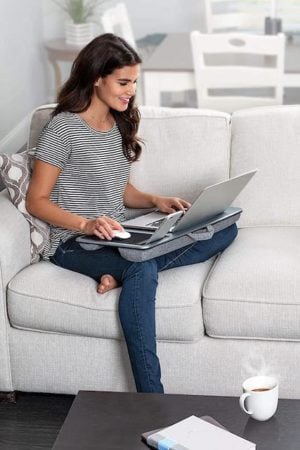 8. Naadam Cashmere Hoodie
If your daughter loves the softest cashmere on the planet, look no further than Naadam, whose cashmere is sustainably sourced from Mongolia. This super-soft cashmere hoodie can be dressed up or down, but we think you might find one in several gorgeous colors that she will wear all holiday and back to school in January.
9. Glossier Essential Mini Skincare Set
Here are six bestselling skincare products from the uber-popular Glossier skincare brand. The Milky Jelly Cleanser, Super Bounce serum, Priming Moisturizer Rich, soothing Balm Dotcom (in Original and Rose), Futuredew oil-serum hybrid plus a pink nylon-spandex headband, perfect to use when she papers herself with Glossier.
10. Umbra Jewelry Stand
This delicate jewelry stand is a place for your daughter to keep all her favorite pieces in one spot where necklaces remain untangled on three holders of graduated heights. Available in copper, smoke, or terrazzo, this 16″ high stand is anchored at the base, so it stays upright.
11. Heatless Curling Set
Why stress your hair to get wavy curls when you can use these soft satin ties overnight and wake up with perfect bouncy hair?
12. Bath Bombs
Each luxurious bath bomb turns the water a different color creating a colorful spa experience with plant-based butter and oils to smooth skin. Choose scents for focus and balance or to help her have a calming soak.
13. Levoit Mini Air Purifier
Levoit is a highly-rated brand of air purifier, and now they have the mini model with a HEPA filter, which your daughter can use in her dorm room or college apartment to filter smoke, allergens, pet dander, odor, and dust. Add a few drops of essential oils to create a pleasing scent. Weighs just 1.3 pounds.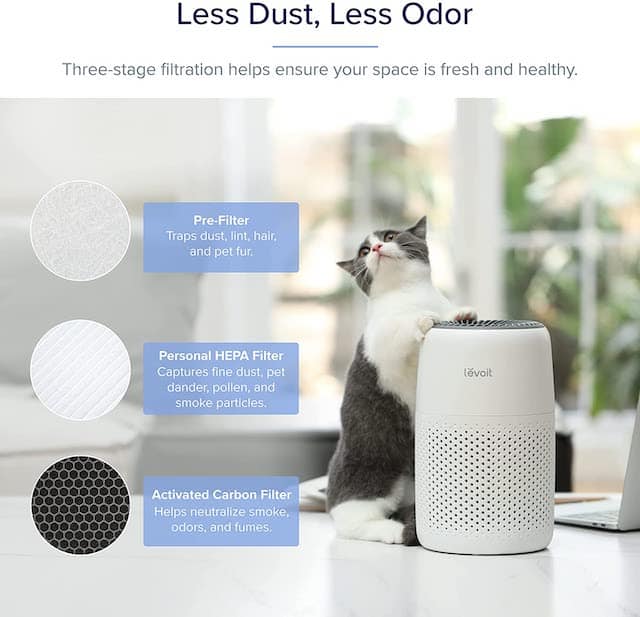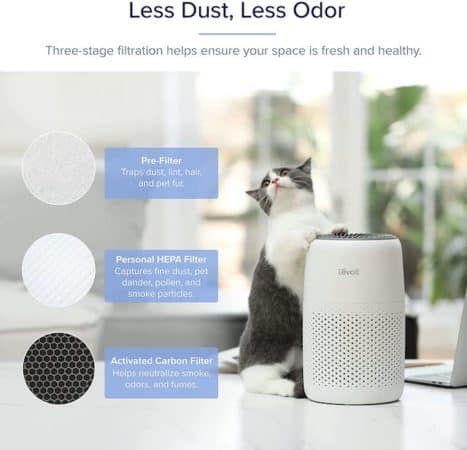 14. Keratin Hair Mask
A hair mask is great for repairing dry or damaged hair and deep conditioning. This keratin hair mask includes Omega 3 and Vitamin E. 
15. Kyle Cavan Collegiate Jewelry
We think these beautiful jewelry pieces for college women would make a memorable Christmas gift. Introducing Kyle Cavan, a female-owned business that thoughtfully offers several lines of elegant and affordable necklaces and bracelets (and cufflinks for guys) to celebrate the friends and accomplishments that make the college years so special.
16. Celavi Skincare Face Masks
These are the best face masks and are only one dollar each if you buy a 12-pack. They are made with antioxidants and natural, cruelty-free ingredients. This is a thoughtful gift to encourage your daughter to take time for self-care. 
17. Smiley/Happy Face Slippers
These have been super popular this year because what's better than your feet being comfy, warm, and happy.
18. Lululemon
If you're looking for a buttery-soft, crazy comfortable legging-look no further. Honestly-Lulu leggings are the softest things I've ever felt. There is a reason these are wildly popular; they look good, and they feel heavenly. This could be the #1 gift on many young women's Christmas lists this year.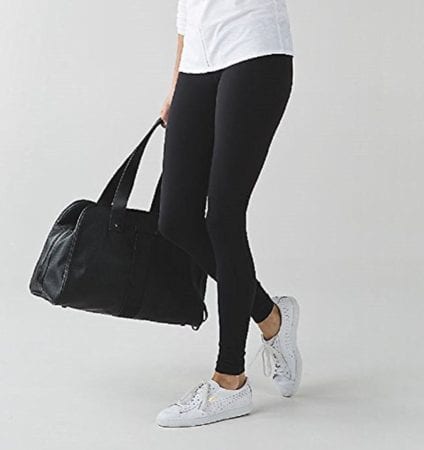 19. AirPod Pros(2nd Gen)
AirPods can also help with noise and are amazing for listening to music, podcasts, or conversation. If your daughter doesn't have a set or has an older generation, these make a great gift, especially because they have active noise cancellation, and college living can be very noisy!
20. Zodiac Ring
If your daughter appreciates her zodiac sign, this is a great ring. They are made with sterling silver, gold, or rose gold and subtly features the zodiac sign in the center.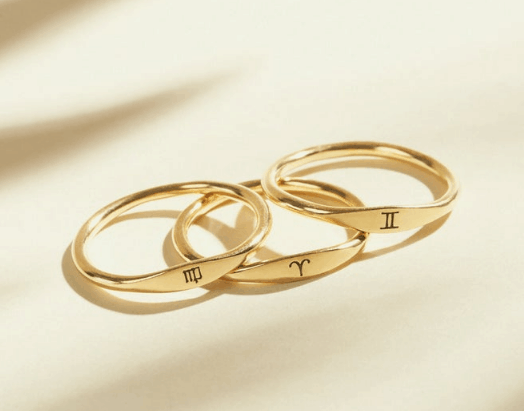 21. Crossbody Bag
A crossbody is the best for leaving the house with a smaller bag but not a huge backpack. We love the K. Carroll crossbody bags, which come in so many beautiful colors.
22. Bearaby Weighted Blanket
This weighted blanket is on everyone's list this year. It's made from organic cotton, it feels delicious and can help you get a deep, restful sleep.
23. Blissey Pillowcase
Who hasn't heard that silk pillowcases are the way to go? Blissey pillowcases are handmade from high-quality silk; Blissey says their pillowcase "does wonders for your hair, skin and overall health while you sleep." Available in 10 beautiful colors.
24. Large Hair Clips
These types of large hair clips are the new trend that many teens and college women are using. 
25. Alo Workout Gear
College women can always use more workout clothing, and Alo is a super-popular brand. Their yoga pants are incredibly comfortable, and so many other cute things are on their site.
26. Ring Light
If she likes making TikToks or enjoys making videos for social media, a Ring light is a perfect gift. It comes with different settings to choose the type of lighting. 
27. Portable Bluetooth Speaker 
The Tribit XSound Go provides up to 24 hours of continuous play with impressive audio. This compact, waterproof Bluetooth speaker is a top pick at a very affordable price.
28. Target Designer Collection
Shopping at Target is a must-do during the holidays. Here is where you can find great style at a great price. We love these designers and think your daughter will, too.
Ready for your college student to have their own Amazon Prime Account? Special Prime deal for students — learn more here.
More Great Reading:
Stocking Stuffers for Teens and College Kids
50 Popular Christmas Gifts for College Guys
Christmas Gifts for Her: Teens, College Students